Sophie Turner talks about the emotional Stark family reunion
Game of Thrones season 6 episode 4 started on an emotional note when Sansa Stark arrived at Castle Black and finally we saw a Stark family reunion. It was an emotional moment when Sansa and Jon Snow ran towards each other and hugged tightly. The last time Jon Snow and Sansa Stark were together was the first episode of season 1. Another important thing to note is that last time two members of Stark family were together in season 3 episode 9, which was the Red Wedding.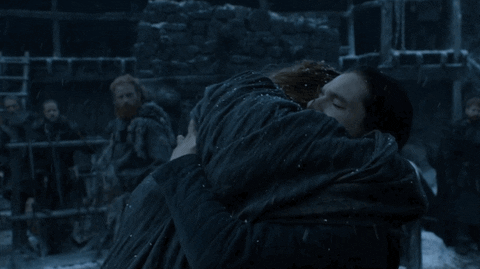 It was an emotional scene for Sophie Turner too as she was excited to be working together with Kit Harington for the first time since season 1. While talking to EW she had this to say about the scene. "She finally made it to Castle Black. And there's this look where they're just studying each other's faces, with no expression. Then there's this long embrace. It's just awesome."
It is important to remember that the show is shot on a large scale, with shooting going on simultaneously in multiple countries. So, even if the stars act in the same show, it doesn't necessarily mean that they get to work together.
Sophie further added, "Kit is one of my best mates and we had just one scene together in the pilot, where we're waiting on the king. It's like working with an older brother. I've watched his work over the past four years and I think he's amazing."
In the episode Sansa and Jon spent time together reminiscing about their days at Winterfell and they even talked about how they didn't share a good relation back then. Sansa even apologised for the rude behaviour and they talked about how it would have been wonderful if they never had left Winterfell.
"People can kind of assume that Sansa's very much like her mother and her mother wasn't very fond of Jon. But Sansa is also different from her mother so she tries her best."
Overall it was a very touching reunion and after a long time we got to see members of the Stark family having a emotional talk and laughing and having a nice time. The show has been extremely brutal towards the Stark family since season 1 and now that Sansa and Jon are together, things might change.
Sansa urged Jon Snow to join her in retaking Winterfell as that would be the only way they could remain safe. Now that Rickon is with Ramsay, Sansa and Jon will make sure that the Boltons are defeated and Winterfell again becomes the home of House Stark. It will be interesting to see what happens next now that they are together.
Also take a look at what Emilia Clarke had to say about the epic climax scene from the episode.
Game of Thrones Blu-ray has exclusive clips from "The Long Night"
It has been nearly seven months since the last episode of Game of Thrones aired. Now that the dust seems to be settling down on the show, the Blu-rays are out with some very exclusive content for its fans.
As reported earlier, Game of Thrones: The Complete Collection box set and Game of Thrones: The Complete Series Blu-ray and DVD sets, were released on December 3. Ever since the Blu-rays have been out, the deleted scenes have begun to hit the internet.
It turns out, if you have bought all the goodies of the show, you would have hit the jackpot with some never seen before footage from the show. As per Syfy, there is an exclusive clip from the mammoth battle sequence of "the long night" episode of season 8. The video is titled When Winter Falls.
In the video, Gwendoline Christie (Brienne of Tarth), Nikolaj Coster-Waldau (Jaime Lannister), and Jacob Anderson (Grey Worm) talk about their experiences shooting the episode.
Christie in the videos says "Oh my goodness, it was overwhelming, You're on this huge set, it's filled with smoke. It feels like maybe a 1,000 people on the set with extras, crew, and cast."
Whether we liked the episode or not, even the most ardent critic of the show have been appreciative of the effort that went behind shooting it. Directed by Miguel Sapochnik, "The Long Night" required 55 days of grueling night shoots across 11 weeks.
Entire cast and crew have gone on record talking about their emotional and sometimes even exhaustive experiences of shooting for the show. The behind the scenes footage gives us a slight peek into that experience.
Have you got your hands on Game of Thrones Blu-ray and DVD sets? Let us know in the comments below!
Kristian Nairn (Hodor) says Game of Thrones Season 8 criticism was undeserved
If you're someone that defends Game of Thrones' ending, you might not be alone. Kristian Nairn a.k.a. Hodor feels that the criticism of Games of Thrones final season was undeserved. Speaking recently at Northern Michigan University, Nairn joined the rest of the cast in the defense of the show. The popular HBO show ended its run earlier this year and received some extreme reactions from fans and critics alike.
He was quoted saying:
"We're all immensely proud of it, I know it was life-changing for all of us. I'm just sad that it's over, I really am. And not just because I'm dead. […] I was very happy with the series ending, I understand why people were mad. But again I think deep down if people look into the motivation behind it I think they're more just mad that it's over."
Nairn however, went on to add that because the show had stringent timeline for the final season, the makers had to let go off certain subtleties that they had shown in earlier seasons.
He said:
"I don't think the criticism the show received was deserved.
I think the last season was excellent. My only qualm was that I felt that it could've been a little longer — I missed the Game of Thrones of old that paid such attention to small details — like a ten-minute dialogue scene. But, because the clock was ticking and they're heading towards a conclusion, it lost a bit of subtlety and that was something people loved about the show, it was a show where even the small characters had a role to play."
Every one who saw the show is always going to remember the Hodor character played by Nairn. He was one of the many actors on the show who had small but an influential character.
Do you agree with Kristian Nairn's view? Let us know in the comments below!
Roku will stream the first season of Game of Thrones for free this holiday season
Game of Thrones has ended, which means like any other finished TV show, it is now open for a ton of syndication possibilities, to maximise revenue post end of the show. The latest news on this scene is a great one for anybody looking to start watching the show, this late. Roku will be streaming the first season of Game of Thrones for free this holiday season. Read on!
Roku is doing this as a part of its second annual holiday streaming event, called the Stream-a-thon, which streams free television to anyone that owns a Roku device. On this years roster is the first season of Thrones, among other offerings from networks like Cinemax, Showtime, Starz, et al.
There will be other HBO episodes in the mix as well, from hits like Chernobyl and Barry. This festival is a win win for everybody involved, Roku gets promotion for its devices, the networks get subscriptions resulting from this promotion in the form of a free trial, and the viewer gets great devices and some free content.
So if you're looking for the perfect holiday gift for that friend of yours that doesn't stream yet, and wants to get into it, especially Game of Thrones, you might want to get them a Roku device, most of which will be on offer prices for the holiday season. Be quick, though, as this Stream-a-thon will run from December 26, 2019 to January 1, 2020.
What do you guys think? Talk to us in the comments, down below!