Sophie Turner talks about the emotional Stark family reunion
Game of Thrones season 6 episode 4 started on an emotional note when Sansa Stark arrived at Castle Black and finally we saw a Stark family reunion. It was an emotional moment when Sansa and Jon Snow ran towards each other and hugged tightly. The last time Jon Snow and Sansa Stark were together was the first episode of season 1. Another important thing to note is that last time two members of Stark family were together in season 3 episode 9, which was the Red Wedding.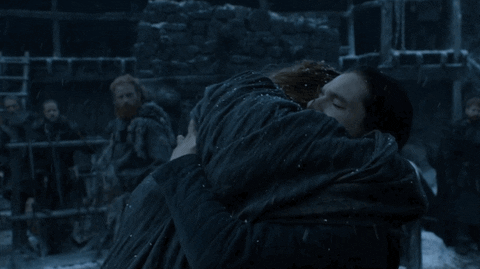 It was an emotional scene for Sophie Turner too as she was excited to be working together with Kit Harington for the first time since season 1. While talking to EW she had this to say about the scene. "She finally made it to Castle Black. And there's this look where they're just studying each other's faces, with no expression. Then there's this long embrace. It's just awesome."
It is important to remember that the show is shot on a large scale, with shooting going on simultaneously in multiple countries. So, even if the stars act in the same show, it doesn't necessarily mean that they get to work together.
Sophie further added, "Kit is one of my best mates and we had just one scene together in the pilot, where we're waiting on the king. It's like working with an older brother. I've watched his work over the past four years and I think he's amazing."
In the episode Sansa and Jon spent time together reminiscing about their days at Winterfell and they even talked about how they didn't share a good relation back then. Sansa even apologised for the rude behaviour and they talked about how it would have been wonderful if they never had left Winterfell.
"People can kind of assume that Sansa's very much like her mother and her mother wasn't very fond of Jon. But Sansa is also different from her mother so she tries her best."
Overall it was a very touching reunion and after a long time we got to see members of the Stark family having a emotional talk and laughing and having a nice time. The show has been extremely brutal towards the Stark family since season 1 and now that Sansa and Jon are together, things might change.
Sansa urged Jon Snow to join her in retaking Winterfell as that would be the only way they could remain safe. Now that Rickon is with Ramsay, Sansa and Jon will make sure that the Boltons are defeated and Winterfell again becomes the home of House Stark. It will be interesting to see what happens next now that they are together.
Also take a look at what Emilia Clarke had to say about the epic climax scene from the episode.
Richard Madden and Kit Harington hit the red carpet at Marvel's Eternals World Premiere
Game of Thrones stars are no strangers to being in the limelight, but two of the most notable members of the cast have moved on to one of the very few franchises in the world that are bigger than Thrones — the Marvel Cinematic Universe. Kit Harington and Richard Madden recently hit the red carpet at Eternals World Premiere, Marvel Cinematic Universe's latest film to grace the big screen.
Harington, 34, and Madden, 35, rose to fame after playing half brothers Jon Snow and Robb Stark, respectively, on HBO's epic fantasy Game of Thrones. They will be reuniting after almost a decade on screen on Marvel's upcoming movie Eternals, starring as fan favourite superheroes from The Eternals comic book series.
Madden has been tapped in to play Ikaris, a hero from an ancient race of beings descended from celestials. While Harington will play Dane Whitman, aka The Black Knight, a human who gains superpowers after gaining access to a mystical sword.
Harington hit the red carpet with a brown shirt under a pinstriped suit coat, with the sleeves rolled up to his elbows. He also wore matching black pinstriped pants with a black leather watch strapped to his left wrist.
His co-star Madden opted for a more formal look with a black tuxedo coat over a white dress shirt and black bowtie. The actor sported the early scruff of a growing beard on the red carpet, though it was not as full as his co-star. He completed his look with black tuxedo pants and shiny black shoes for the world premiere red carpet event.
Are you excited about Marvel's Eternals? Talk to us in the comments below!
George R. R. Martin loved the House of The Dragon's teaser trailer
House of The Dragon's first teaser trailer is finally here! The teaser was released by HBO at the end of the HBO Max European launch event and it features a voiceover by Matt Smith who plays the role of Prince Daemon Targaryen. It broke the internet as soon as it was released, and fans are going crazy over the accuracy and detail shown in the teaser. It was watched by over 10 million viewers in less than three days of its launch! And George R. R. Martin has something to say about the teaser trailer.
Martin wrote on his blog Not a Blog:
"Yes, I know, most of you have already seen this. (What can I say? I am busy. Juggling so many balls, so many projects, posting stuff on my Not A Blog is not my highest priority, so things may always be a little bit behind here).
For the handful who have been off the internet the past few days, however… HBO has released the first official teaser/trailer for HOUSE OF THE DRAGON. Here 'tis.
Enjoy.
(And yes, I love it too. Ryan and Miguel and their team are kicking ass and taking names)."
Looking at the current speed of production, we can hope Martin's earlier prediction about the prequel's release will come to fruition. What do you think about House of The Dragon? Talk to us in the comments below!
A young Alicent Hightower takes over the Iron Throne in Leicester Square
The filming for Game of Thrones prequel House of The Dragon is progressing really smoothly, besides minor delays everything's looking good for HBO's high priority project. HBO recently dropped the first official teaser trailer for House of The Dragon, and fans are going crazy about it. That being said, we know that filming for the prequel show will be starting in Spain the next week, and the cast and crew members are gathering up at the Castle of La Calahorra.
The actors are taking a small break from their busy schedule before the shoot resumes, and it seems Emily Carey, who will be playing a young Alicent Hightower in the show is having fun with a replica of the Iron Throne.
found this chair in leicester square (wearing green was coincidental) #HOTD #HouseoftheDragon #AlicentHightower pic.twitter.com/X8AN432Dbs

— Emily Carey (@TheEmilyCarey) October 8, 2021
Carey recently posted a picture on her official Twitter account. She seems to be enjoying a quiet day at Leicester Square, and her preferred choice of furniture is the Iron Throne replica. She wrote in the caption, "Found this chair in Leicester Square (wearing green was coincidental)." #HOTD #HouseofTheDragon #AlicentHightower
Do you think the future Queen of Westeros was foreshadowing a scene from House of The Dragon? Wearing green was coincidental? Maybe, maybe not. Only time will tell.
Are you excited about the Game of Thrones prequel House of The Dragon? Talk to us in the comments below!
You can also join our newly created Telegram group to talk about the show/books and interact with other fans.
Also, if you live in any of the places where House of the Dragon is currently filming or will be filming in the future, and would like to share photos of the sets/cast or any tips, drop us a mail at connect [at] wikiofthrones [dot] com or use our Contact Us form.