Sophie Turner talks about the emotional Stark family reunion
Game of Thrones season 6 episode 4 started on an emotional note when Sansa Stark arrived at Castle Black and finally we saw a Stark family reunion. It was an emotional moment when Sansa and Jon Snow ran towards each other and hugged tightly. The last time Jon Snow and Sansa Stark were together was the first episode of season 1. Another important thing to note is that last time two members of Stark family were together in season 3 episode 9, which was the Red Wedding.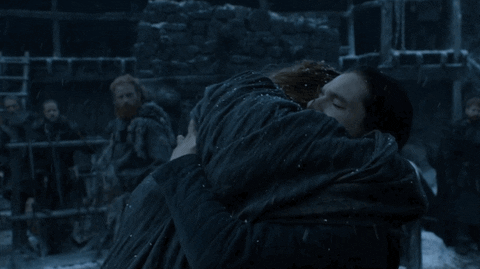 It was an emotional scene for Sophie Turner too as she was excited to be working together with Kit Harington for the first time since season 1. While talking to EW she had this to say about the scene. "She finally made it to Castle Black. And there's this look where they're just studying each other's faces, with no expression. Then there's this long embrace. It's just awesome."
It is important to remember that the show is shot on a large scale, with shooting going on simultaneously in multiple countries. So, even if the stars act in the same show, it doesn't necessarily mean that they get to work together.
Sophie further added, "Kit is one of my best mates and we had just one scene together in the pilot, where we're waiting on the king. It's like working with an older brother. I've watched his work over the past four years and I think he's amazing."
In the episode Sansa and Jon spent time together reminiscing about their days at Winterfell and they even talked about how they didn't share a good relation back then. Sansa even apologised for the rude behaviour and they talked about how it would have been wonderful if they never had left Winterfell.
"People can kind of assume that Sansa's very much like her mother and her mother wasn't very fond of Jon. But Sansa is also different from her mother so she tries her best."
Overall it was a very touching reunion and after a long time we got to see members of the Stark family having a emotional talk and laughing and having a nice time. The show has been extremely brutal towards the Stark family since season 1 and now that Sansa and Jon are together, things might change.
Sansa urged Jon Snow to join her in retaking Winterfell as that would be the only way they could remain safe. Now that Rickon is with Ramsay, Sansa and Jon will make sure that the Boltons are defeated and Winterfell again becomes the home of House Stark. It will be interesting to see what happens next now that they are together.
Also take a look at what Emilia Clarke had to say about the epic climax scene from the episode.
Emilia Clarke and Jason Momoa set to reunite on The Graham Norton Show
There are quite a few Game of Thrones pairings that are iconic, but the top spot belongs to Emilia Clarke and Jason Momoa, without a doubt. The actors that played the onscreen couple Daenerys Targaryen and Khal Drogo are great friends in real world. We have seen them reunite quite a lot, but the two are headed for an onscreen reunion, as they're scheduled to appear on The Graham Norton Show. Read on!
The popular British TV series The Graham Norton Show always has the best guest pairing, and they seem to have totally nailed it this time around. Emilia and Jason will be seen together on the show's upcoming episode scheduled to air on October 25.
Emilia is currently in the middle of promoting her upcoming film Last Christmas, while Momoa is promoting his upcoming Apple TV+ series See. The two promos seem to have come together beautifully, leading to this reunion. The show will also have Regina King, there to promote her upcoming HBO series Watchmen, and comedian Ross Noble, with Camila Cabello slated to be the performer.
The episode will air on Friday, October at 10.35pm on BBC One, for the British fans of the show. Are you excited to watch the two unite on screen after this long? We sure are. Talk to us in the comments, below!
Maisie Williams says it was "horrible" to look like a boy to play Arya Stark
Game of Thrones has had a lot of strong female characters, but it would be inaccurate to say that it celebrates femininity. One example is Arya Stark, who is seen as a boyish character for most of the show, and as an extension, we all ended up seeing Maisie Williams the same way. In a recent interview, she discussed what it was like to have to hide her feminine side for the role, calling the experience "horrible." Read on!
In a recent interview with Vogue, Maisie discussed coming of age in the spotlight, and more. Starting off, she talked about "maturing" about two seasons into the production of the show:
"But Arya was still very much like trying to be disguised as a boy and I had really short hair and they constantly covered me in dirt and shaded my nose so it looked really broad and I look like, really manly."
She continued:
"And they would also put this strap across my chest to flatten any growth that had started, and I don't know, that just felt horrible for six months of the year."
The only glimpse we got of Arya Stark's femininity came in the last season of the show, with her and Gendry sharing what was the first and only romantic moment for Arya throughout the show. Maisie also said that she felt ashamed to be a girl for a while, and is enjoying her feminine side a lot more now.
Well, it's safe to say that the fans love this side of Maisie as well. What do you feel? Tell us in the comments, down below!
Fans wonder why Isaac Hempstead Wright wasn't on stage during Game of Thrones tribute at the Emmys
The 2019 Primetime Emmy Awards were recently held, and while Game of Thrones didn't do as well as usual, it was the last Emmy appearance for the show. The show walked away with the Outstanding Drama Emmy, and also had a heartfelt tribute with some of the cast members.
What was surprising, however, was that the winner of the Game of Thrones (or the closest we got to it), Issac Hempstead-Wright, who played Bran Stark, was surprisingly absent from the tribute, but rather in the audience. This perplexed many of the fans:
My favorite moment of the Emmys was when they brought out the GOT cast and made bran sit in the audience😂😂😂 #Emmys2019 pic.twitter.com/k0EqrCzThR

— Mary (@MaryLeishman) September 23, 2019
bran looking at his cast members onstage from the audience #Emmys2019 pic.twitter.com/v7CTCcpg76

— Kate Manegold (@katemanegold) September 23, 2019
Bran sitting in the audience like: #Emmys pic.twitter.com/ejgOCsKQCb

— Lindy Segal (@lindysegal) September 23, 2019
Bran is the actual winner of the Game of Thrones and they literally did not put him on the stage????

— Kate Halliwell (@katehalliwell) September 23, 2019
So they made bran KING and he's not even up there with them? #Emmys pic.twitter.com/7GfrPz4Xbl

— Ria (@BarstoolRia) September 23, 2019
Bran is the actual winner of the Game of Thrones and they literally did not put him on the stage????

— Kate Halliwell (@katehalliwell) September 23, 2019
Bran the Forgotten 😂 https://t.co/0hAOlp7v6o

— Vanessa Cole (@vkcoleartist) September 23, 2019
BRAN THE BROKEN DOESN'T EVEN GET TO TAKE THE STAGE WITH THE THRONES CAST?! REEK IS UP THERE BUT BRAN ISN'T?!?!

— Robbie Fox (@RobbieBarstool) September 23, 2019
bran looking at his cast members onstage from the audience #Emmys2019 pic.twitter.com/v7CTCcpg76

— Kate Manegold (@katemanegold) September 23, 2019
I'm sorry but how did the sexy old witch get to go on stage with the main cast while King Bran the Broken, Ruler of the Six Kingdoms and Protector of the Realm get put in the nosebleeds with Library Boy? #Emmys2019 pic.twitter.com/GTxOF3oFKu

— omri (@Omri_Rawrlan) September 23, 2019
Well, the logic seems to be that only the nominated actors were on the stage for the tribute, which isn't a bad thing. However, being that it was the show's last year at the site, it would've been better to have the entire cast on the stage.
What do you guys think? Tell us in the comments, blow down below!