9 details you might have missed in Game of Thrones season 6 episode 3 : Oathbreaker
Game of Thrones season 6 episode 3, Oathbreaker was a wonderful episode which had a major impact on the characters in the series. One of the most important scene was the Tower of Joy fight in which we came to know that Bran Stark could actually make contact with people in his visions. Sadly the vision was cut abruptly before we could see Ned Stark meeting Lyanna. So we will have to wait for more time to know if the popular Jon Snow theory is true or not. Arya Stark got back her eyes and Rickon Stark was gifted to Ramsay Bolton by the Umbers. The episode ended with Jon Snow executing the mutineers and then leaving the Night's Watch.
We have gone through the episode many times since it has aired and we checked many references and we have come up with a list of details from the episode that you might have missed.
1.  Melisandre is eager to know what happens when a person dies
When Melisandre met Beric Dondarrion in season 3, she immediately realised that he had been brought back to life and she wanted to know what was on the other side. She got a reply that there was just darkness. The same thing happened in this episode when she asked Jon Snow about the other side and his response was the same. There was nothing. Another interesting thing to note is the season and episode numbers. Melisandre asked Beric the question in Season 3 Episode 6, while she asked Jon the same question in Season 6 Episode 3.
2. Tommen I am the king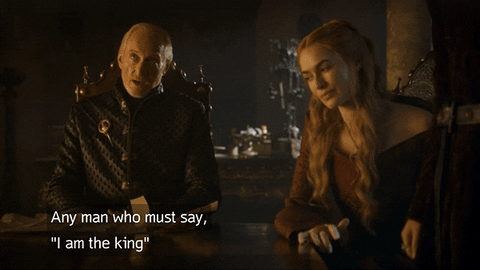 The episode had a reference to Joffrey Baratheon in the scene when Tommen met the High Sparrow.
3. I wish you good fortune
The last sentences of both Arthur Dayne and Mance Rayder were there same. Its interesting to see that they said these words to Ned Stark and Stannis Baratheon and they didn't have a good fortune in the wars to come.
4. Tyrion's drinking game
While talking with Missandei and Grey Worm, Tyrion mentioned a drinking game that he had invented. This is not the first time we have seen Tyrion talking or playing about this drinking game.
When Tyrion first met Shae, he played the same game with Shae and Bronn.
5. Targaryen soundtrack is played when Jon swings the sword
At the end of the episode, when Jon is about to execute the traitors, the Targaryen soundtrack is played. Also the way he swings his sword is similar to the way young Ned Stark swings it while killing Arthr Dayne. Is this an indication that Jon Snow is both Targaryen and Stark, which is on the lines of the R + L = J theory. Take a look at the soundtrack that is played when Jon Snow swings the sword and now check check the Targaryen soundtrack.
6. Jon Snow is free from the Night's Watch oath
The Night's Watch oath starts with the following words: "Night gathers, and now my watch begins. It shall not end until my death."
Jon Snow was killed and thus he is free from the oath and now he can leave the Night's Watch and wage a war on the Boltons without being an oathbreaker.
7. Jon Snow is still Ned Stark's bastard
We hoped that we would get to see the complete Tower of Joy scene but it was cut short before we could see Lyanna Stark. So officially speaking it's still not known who Jon Snow's mother is and thus he still remains a bastard and we have to keep calling him Jon Snow instead of Jon Targaryen or Stark or Blackfyre or whatever name he is going to get after we come to know about Lyanna Stark. Coming back to life hasn't changed anything for Jon as he still remains a bastard. Only thing that has changed is that he is free of the Night's Watch oath.
8. Jon walks to the North of the wall
The episode ends when Jon hands over the duties of the Night's Watch to Edd and leaves by saying, "My watch is ended". If you look carefully, he isn't leaving Castle Black and heading South but going in the opposite direction, which is beyond the Wall.
9. Who are the Oathbreakers?
If you look carefully, you will realise that the name Oathbreaker applies in general to most of the characters in this episode, which includes Jon Snow, Brothers of Night's Watch, House Umber, Daenerys, Samwell Tarly, Ned Stark.
Jon Snow broke the oath when he allowed the Wildlings to cross the Wall. All these centuries the Night's Watch made sure that they kept everyone on the North side of the Wall but Jon Snow let thousands of Wildlings pass through the gates.
The Brother's of the Night's Watch broke an oath when they stabbed their Lord Commander to death.
House Umber broke the oath by betraying the Starks and handed Rickon Stark to the Boltons.
Daenerys Targaryen did not return to Vaes Dothrak after Khal Drogo died as it was customary for the widows of the Khals and thus she broke an oath.
Samwell Tarly was going to take Gilly to his parents instead of taking her with him, thereby breaking the promise he made to her.
Ned Stark had to kill Arthur Dayne is a way which he himself would find to be dishonest but he had to rescue his sister. Even though he didn't break any oath, he did break his own code.
Who is Ser Harrold Westerling? Here's who Graham McTavish is playing on House of The Dragon
Not long ago, several pictures of Graham McTavish were leaked on the internet, wearing a full-scale Kingsguard body armour from the set of House of The Dragon. Recently, it has been confirmed by House of The Dragon's official Twitter handle that he's playing Ser Harrold Westerling on the show. Here's a quick look at McTavish's newest persona.
Ser Harrold Westerling is a knight of House Westerling and the Lord Commander of Viserys I Targaryen's Kingsguard. Harrold is one of the longest-serving members of the Kingsguard. He was once a powerful knight with a successful military background, and eventually succeeded Ser Ryam Redwyne as Lord Commander. He is tasked by the king to watch over and guard Rhaenyra Targaryen.
Harrold Westerling was announced as a recurring character in House of the Dragon on December 8, 2020. The character description on HBO's official website reads as follows:
"The Commander and longest-serving member of the Kingsguard who still remembers the lustre of the storied Seven Knights. A once-powerful Knight and a successful military background so a man with presence and status. Given the responsibility to the King to watch over and guard the Princess. In the current regime, where widespread peace has led to complacency and indulgence, he feels something of a loss of purpose, but nevertheless serves the King with a fierce, if quiet, loyalty."
This makes sense as the recent leaks from the House of The Dragon set pictured him in the same vicinity as Olivia Cooke and Milly Alcock, who play Queen Alicent Hightower and a young Princess Rhaenyra Targaryen respectively.
What do you think of the casting? Talk to us in the comments below!
Here's a list of all the Game of Thrones references in Lucifer
Lucifer Season 6 is finally out! The comic book/supernatural based hit series came to an emotional end on September 10 this year with the release of its final season. The show paid a lot of homages to various pop culture icons, including Game of Thrones. Let's have a look at all the times Game of Thrones was referenced by various characters on Lucifer.
Season 3 Episode 14
Cain aka Marcus Pierce (Tom Welling) has been roaming the earth for thousands of years. He's tired of losing his loved ones due to an immortality curse placed on him by God. After a long and bloody skirmish with Amenadiel (D.B. Woodside), he says and believes he has 'nothing to live for'. Amenadiel replies, "Have you tried Game of Thrones?"
Season 4 Episode 8
Lucifer is dealing with his emotional issues, after getting back with his ex Eve (Inbar Lavi). Chloe (Lauren German) tells Lucifer about a prophecy, that apocalyptic events will occur on earth and Hell will freeze over if Lucifer meets his true love. To which he replies, "Perhaps winter is coming."
Season 5 Episode 9
God (Dennis Haysbert) is on earth and organizes a small family reunion at Linda's (Rachael Harris) house. Lucifer considers himself the smartest in the family, much like Tyrion Lannister in Game of Thrones. He drags the chair to sit at the other head of the table in an equal position to his father. Tyrion does something similar at the small council in King's Landing.
Season 5 Episode 16
Michael and Lucifer (both played by Tom Ellis) have agreed to decide who will be the new God of their universe, by a poll that Lucifer is most likely to lose. All the angels show up at Los Angeles Memorial Coliseum, and Michael is wearing a special medieval warrior-like attire for the occasion. Lucifer mocks him for his poor fashion sense, asking him "Is winter coming or something?"
Season 5 Episode 16
Lucifer and Michael are locking horns for a final showdown, because Michael is willing to kill those who won't obey him. In a dramatic and long-drawn-out battle, Lucifer defeats Michael with Chloe's help. He orders him to stand down and 'bend the knee', and then goes on to cut off his wings. "Bend the knee" is frequently used by Daenerys Targaryen in Game of Thrones, whenever she subdues an enemy.
Have you noticed any other Game of Thrones references we might have missed out on? Tell us in the comments below!
Legendary Valyrian Steel Swords to look out for in House of The Dragon: Part 2
Valyrian Steel Swords are very priceless and magical weapons that are possessed by very few. By the time of Game of Thrones, we see only a handful of individuals who have access to them. But 300 years ago, during the events of House of the Dragon, they were much more in number.
We have seen a few of them in HBO's TV adaptation of Game of Thrones. But there will be a lot more in the prequel show House of The Dragon. There have been about 227 Valyrian steel swords that have been recorded in the history of Westeros, most of them have been lost or destroyed. Let's have a look at a few of them that might make an appearance in House of The Dragon. We covered a few of them in the previous article, here's the link. Do check it out!
Lamentation
Lamentation was a famed Valyrian steel sword that belonged to House Royce. Ser Willam Royce wielded the blade during the Dance of the Dragons. The sword was torn from the hand of Willam, however, when he was killed during the Ride of the Seven. With Willam's death, the sword was carried off, never to be found again. However, some rumours claim that Ser Warrick Wheaton slashed a wing off of Syrax with a Valyrian steel sword, likely Lamentation, during the Storming of the Dragonpit.
Dark Sister
Dark Sister is a famous longsword of Valyrian steel. It is one of two ancestral swords of House Targaryen. Dark Sister had a slender blade originally designed for a woman's hand. It was wielded by Visenya Targaryen during Aegon's conquest of Westeros. During the Dance of the Dragons, it was the prime weapon of choice for Prince Daemon Targaryen. Dark Sister was lost when the last wielder of the sword, Brynden Rivers, went missing beyond the Wall in 252 AC.
Longclaw
Longclaw is the ancestral Valyrian steel sword of House Mormont. It is the same sword Jeor Mormont gifts to Jon Snow at the Night's Watch in Game of Thrones. The Mormonts supported the Starks in their allegiance with Rhaenyra Targaryen during the Dance of the Dragons.
Lady Forlorn
Lady Forlorn is the ancestral longsword made of Valyrian steel belonging to House Corbray. The sword has a heart-shaped ruby in its pommel and its blade is smokey-grey in appearance. Ser Corwyn Corbray wielded Lady Forlorn during the Dance of the Dragons. It was in the possession of Ser Lyn Corbray in Game of Thrones.
Is there any Valyrian steel sword you'd wish to own? Tell us in the comments below!
Source: A Wiki of Ice and Fire
Art Citations:
Visenya Targaryen by Berkan Ozkan