Khal Drogo might make a comeback in Game of Thrones
Game of Thrones fans are eagerly waiting for Jon Snow to come back to life but it seems he isn't the only one who might make a comeback. Jason Momoa who played Khal Drogo in the show posted photos on Instagram after the Game of Thrones season 6 premiere along with captions and that has made the fans curious.
After the show aired, Momoa posted photos of the scene in which Daenerys stood up to Khal Moro and made sure that no one laid a hand on her.
The posts seem adorable and it still shows that there's still a strong connect between Emilia Clarke and Jason Momoa. Seeing the first photo it seems as if Momoa misses Clarke and he wants to give her a personal visit but when we look at the second photo, we realise that there's more to it.
It looks as if he might make an appearance in the 6th or the 7th season as he is going to meet David Benioff and D.B. Weiss in Ireland where parts of Game of Thrones are shot. He then ends it by saying "ALOHA DROGO", which means "hello/goodbye Drogo" in Hawaiian. The way he said it implies that it was more of a hello rather than goodbye.
However we know that in the 1st season, Drogo's corpse was burned to ashes in the pyre by Daenerys. So there is no way in which he can be resurrected. That might only mean there will be a flashback involving Khal Drogo. If this is true, it won't be the first time Khal Drogo has returned to the show after his death.
In the 2nd season, Daenerys met Khal Drogo and their unborn son Rhaego in a vision after she entered the House of Undying. Now that Daenerys is back with the Dothraki and has to return to Vaes Dothrak where she will live with the wives of the dead Khals, it might be possible that she remembers Khal Drogo.
It will be interesting to see what happens next.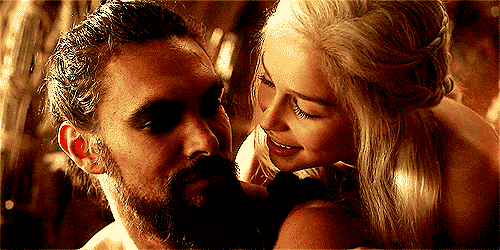 If you want to submit a Game of Thrones article on this site, please visit here.
Game of Thrones finale script reveals Drogon didn't burn the Iron Throne on purpose
Game of Thrones series finale was hated by the fandom to a degree where it triggered millions of people into signing a petition to remake the final season of the show. However, if there was one thing that everybody liked, it was Drogon burning the Iron Throne. Most of the fandom agreed that this was a great choice, but now it seems as though that might not have been intentional like we had thought. Read on!
Now, as you might know, Emmy nominated scripts are made available online, and with the series finale of Game of Thrones, titled "The Iron Throne" getting nominated, the script followed soon. What we saw in the show was Drogon burning the throne down, and the general interpretation was that Drogon was mad at the throne for being the real reason behind Daenerys' death, and that Drogon wanted to break the wheel like his mother always wanted. However, the script has a different version of how it went down:
"Drogon wants to burn the world, but he will not kill Jon. He breathes fire on the back wall, blasting down what remains of the great red blocks of stone. We look over Jon's shoulder as the fire sweeps toward the throne – not the target of Drogon's wrath, just a dumb bystander caught up in the conflagration."
Well, that's awkward. The very reason why everybody liked the melting was that they assumed it was because Drogon was smart enough to see that it was the throne's fault. Now, this looks like just another reason for the fans to hate the showrunners and writers/directors of the finale, David Benioff and Dan Weiss. In the meantime, the PDF of the script has been locked down on the Emmy website, requiring a login to be able to access.
What do you guys think about this reason? Would you have preferred it to be intentional? Talk to us in the comments, down below!
Game of Thrones star Jason Momoa celebrated his 40th birthday with a 168-pound Guinness and whiskey cake
If there's one Game of Thrones star that knows how to party, it's Jason Momoa. The actor, who played the role of Khal Drogo on Game of Thrones, recently celebrated his 40th birthday at a surprise party thrown for him by his friends. Apparently, the party involved a giant 168-pound cake made out of Guinness and whiskey! Read on.
We had reported about the mini-reunion that Momoa had with his Game of Thrones co-star Emilia Clarke, who was present at the party. Now, further details have been revealed, and it looks like the cake was the star of the party, reports INSIDER.
Made by UK-based baker Aggy Dadan of Edible By Aggy, the cake was infused with Guinness and whiskey and took a week to make. It was served on a giant sugar surfboard, with a wave on one side and a mountain on the other, two things Momoa is known to love. It also featured mini-figurines of Momoa, shown climbing the mountain and playing the guitar while surfing on the wave. Check out the pictures:
Dagan said:
"I was thinking, what could be better than putting the whole thing on a sugar surfboard. We incorporated a little mini pint of Guinness, because he loves Guinness, and a little box of donuts for his best friend [Mada Abdelhamid], who calls himself 'Donut Man.'
Jason is a big family man, so [Abdelhamid] wanted to include things that represented that in the cake. They left it pretty much up to me, which I love. I love when people let me use my creativity."
Dagan had previously made a 3/4 scale Aquaman bust cake for Momoa for the premiere of the film, and Momoa seems to have stuck with her.
What do you guys think? Talk to us in the comments, down below!
Emilia Clarke has a reunion with Jason Momoa at his surprise 40th birthday party
The Game of Thrones cast is like a family, and if there's any proof of that, it's the bond between Jason Momoa and Emilia Clarke. The duo, that played Khal Drogo and Daenerys Targaryen on the show, one of the best pairings on the show, still remain friends to this day. Their latest reunion occurred on the day of Momoa's 40th birthday, for which his friends had a surprise bash. Read on!
While Jason's birthday is actually on August 1, but his friends had a surprise bash for him, which obviously included Emilia. Check out the video Momoa made about the party:
Emilia also posted an adorable birthday wish for Momoa to Instagram:
The two seem to reunite repeatedly, and it makes for adorable pictures every time, so stay tuned for more. Don't you just love them? Tell us in the comments, down below!