Khal Drogo might make a comeback in Game of Thrones
Game of Thrones fans are eagerly waiting for Jon Snow to come back to life but it seems he isn't the only one who might make a comeback. Jason Momoa who played Khal Drogo in the show posted photos on Instagram after the Game of Thrones season 6 premiere along with captions and that has made the fans curious.
After the show aired, Momoa posted photos of the scene in which Daenerys stood up to Khal Moro and made sure that no one laid a hand on her.
The posts seem adorable and it still shows that there's still a strong connect between Emilia Clarke and Jason Momoa. Seeing the first photo it seems as if Momoa misses Clarke and he wants to give her a personal visit but when we look at the second photo, we realise that there's more to it.
It looks as if he might make an appearance in the 6th or the 7th season as he is going to meet David Benioff and D.B. Weiss in Ireland where parts of Game of Thrones are shot. He then ends it by saying "ALOHA DROGO", which means "hello/goodbye Drogo" in Hawaiian. The way he said it implies that it was more of a hello rather than goodbye.
However we know that in the 1st season, Drogo's corpse was burned to ashes in the pyre by Daenerys. So there is no way in which he can be resurrected. That might only mean there will be a flashback involving Khal Drogo. If this is true, it won't be the first time Khal Drogo has returned to the show after his death.
In the 2nd season, Daenerys met Khal Drogo and their unborn son Rhaego in a vision after she entered the House of Undying. Now that Daenerys is back with the Dothraki and has to return to Vaes Dothrak where she will live with the wives of the dead Khals, it might be possible that she remembers Khal Drogo.
It will be interesting to see what happens next.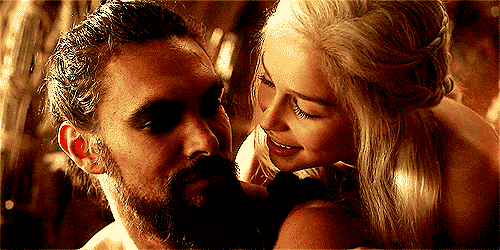 If you want to submit a Game of Thrones article on this site, please visit here.
George R. R. Martin promises to finish The Winds of Winter before writing for House of the Dragon
Game of Thrones might be over, but the franchise is alive and kicking. We still have at least two books left to come, and HBO has just announced he first prequel to the series, named House of the Dragon. The key factor is that both the books, and this show, require George R. R. Martin to write, and the prequel announcement was concerning fans about the fate of The Winds of Winter. George however has cleared those doubts by revealing he'll be finishing The Winds of Winter before staring with the prequel. Read on!
George took to his Not a Blog to discuss the prequel, knowing fully well fans were concerned that it might lead to a further delay in The Winds of Winter coming out. George wrote, giving an insight into the development of the prequel:
"Ryan Condal has already done a considerable amount of writing on House of the Dragon, but a lot of work remains ahead of us. There's a writer's room to be assembled, episodes to be broken down and scripted, a cast and crew to be assembled, budgets and production details to be worked out. As yet, we don't even know where we will be shooting… though I expect we will revisit at least some of the countries David & Dan used for GAME OF THRONES (Ireland, Iceland, Scotland, Croatia, Morocco, Malta, and Spain)."
He continued:
"I expect to be involved in all of this to some extent… and, who knows, if things work out, I may even be able to script a few episodes, as I did for the first four seasons of Game of Thrones."
George made sure to give a little disclaimer, however:
"But… let me make this perfectly clear… I am not taking on any scripts until I have finished and delivered Winds of Winter. Winter is still coming, and Winds remains my priority, as much as I'd love to write episodes of House."
He also discussed the sad fate of the other Game of Thrones prequel, The Long Night, which was cancelled, and noted that he didn't think that the cancellation had anything to do with House of the Dragon, saying HBO had enough room for multiple Game of Thrones successor shows. He also expressed his sympathies towards Jane Goldman and others who worked on the show.
In any case, it looks like we might get The Winds of Winter in 2020, at least. What do you guys think? Tell us in the comments, down below!
Emilia Clarke poses with Jason Momoa and Kit Harington in the best birthday snap ever
Game of Thrones stars have the best get together, but the latest one is definitely our new favourite. The mother of dragons, Emilia Clarke turned 33 recently, and had a birthday bash fitting for a Khaleesi. The best part of the birthday for us fans is a picture that she posted a picture that is by all means iconic, featuring both her onscreen love interests from Game of Thrones. Read on!
Emilia took to Instagram to share moments from what seems like the best birthday party ever, but without a doubt, the crown jewel of the birthday snaps is Emilia's picture with Jason Momoa, a.k.a. Khal Drogo, and Kit Harington, a.k.a. Jon Snow, calling it a "Momoa sandwich" in the hashtags. Check it out:
Well, if only we had gotten this moment on Game of Thrones! Jason Momoa left an adorable comment on the picture, saying "Happy birthday love. So stoked I got to see you 😍". The picture comes right after Emilia and Jason's recent reunion on The Graham Norton Show.
Emilia also posted more pictures from her birthday party. Take a look:
The Khaleesi sure knows how to party. There's a good chance more Game of Thrones stars were present, but we do not have any pictures at the moment.
What do you guys think? Talk to us in the comments, down below!
Emilia Clarke and Jason Momoa set to reunite on The Graham Norton Show
There are quite a few Game of Thrones pairings that are iconic, but the top spot belongs to Emilia Clarke and Jason Momoa, without a doubt. The actors that played the onscreen couple Daenerys Targaryen and Khal Drogo are great friends in real world. We have seen them reunite quite a lot, but the two are headed for an onscreen reunion, as they're scheduled to appear on The Graham Norton Show. Read on!
The popular British TV series The Graham Norton Show always has the best guest pairing, and they seem to have totally nailed it this time around. Emilia and Jason will be seen together on the show's upcoming episode scheduled to air on October 25.
Emilia is currently in the middle of promoting her upcoming film Last Christmas, while Momoa is promoting his upcoming Apple TV+ series See. The two promos seem to have come together beautifully, leading to this reunion. The show will also have Regina King, there to promote her upcoming HBO series Watchmen, and comedian Ross Noble, with Camila Cabello slated to be the performer.
The episode will air on Friday, October at 10.35pm on BBC One, for the British fans of the show. Are you excited to watch the two unite on screen after this long? We sure are. Talk to us in the comments, below!