9 details you might have missed in Game of Thrones season 6 episode 9: Battle of the Bastards
Everyone will agree that Game of Thrones season 6 episode 9, Battle of the Bastards was one of the most epic episode on the show. It was the best battle that we have seen on the show and can easily rival the battles that we see in movies. Game of Thrones is known for it's massive 9th episodes and they didn't disappoint us this time. Even though we didn't visit many places in this episode, there were lot of things that were happening. The show decided to focus only on Meereen and Winterfell, where the battle took place and there were many details that you might have missed while watching the episode. So, here we are, back with another Game of Details post.
1. Another Wildfire reference
The episode started with the Masters continuing their attack on Meereen, and Daenerys and Tyrion were contemplating their next move. Tyrion had to tell Daenerys that her plan reminded him of her father, the Mad King and he gave her a small history lesson telling her what her father intended to do. Tyrion told here that there were caches of wildfire hidden under the Red Keep, The Sept of Baelor and other places in King's Landing.
Game of Thrones is constantly reminding us about Wildfire this season, be it Bran's vision about an explosion or Jaime talking about Cersei burning cities to the ground, and it just points towards the Mad Queen theory. In the next episode, we are going to see Cersei's trial which will be held in the Sept of Baelor and we were reminded by Tyrion that there are caches of Wildfire below the sept. So there is a good chance that we might get to see Cersei doing something big in the season finale.
2. Tyrion was bit harsh on Theon, and his doublestandards
When Theon and Yara reached Meereen, they met an angry Tyrion who reminded Theon how he had treated him badly when he visited Winterfell. He talked about how Theon joked about his height. However, when you check the episode from season 1, you will find out that things were completely opposite and it was Tyrion who behaved badly. He suggested that Robb Stark was Theon's master, told him that the Stark's were his captors and said that his loyalty to his captors was touching and more things. Only when Tyrion repeatedly insulted Theon, did Theon call him an Imp, which doesn't seem to be as harsh as the things that Tyrion had spoken.
That's not the only thing. If Tyrion felt so bad about people joking about his height, he should also be careful about what he said to other people. Take an example of Lord Varys. In the season 6 premiere, he said the following to Varys, "It's a good thing that you are a boy no more. Because you have no cock." Now that's what I call doublestandards.
3. Jon Snow and Grey Worm say the same thing
While talking with their opponents, Jon Snow and Grey Worm had very similar things to say. Jon Snow told Ramsay, "Will your men fight for you when they hear you refused to fight for them."
While Grey Worm had this to say to the soldiers: "Fight and die for the Masters, who would never fight and die for you."
4. Brienne and Tormund love to bite
During the battle, Tormund went against Smalljon Umber and things seemed to be going badly for Tormund and then he bit off a chunk off Smalljon. Brienne did the same thing when she fought against the Hound. It looks like they have a lot in common and fans would definitely love to see them together.
5. The Mhysa connection
Jon Snow and his army was almost defeated by Ramsay and then Jon almost died when he was trampled by the Wildlings who started running away from the Bolton soldiers. At that moment, Jon decided that he wanted to live and he pulled himself out and took a breath of fresh air. This scene is a callback to the season 3 finale, Mhysa.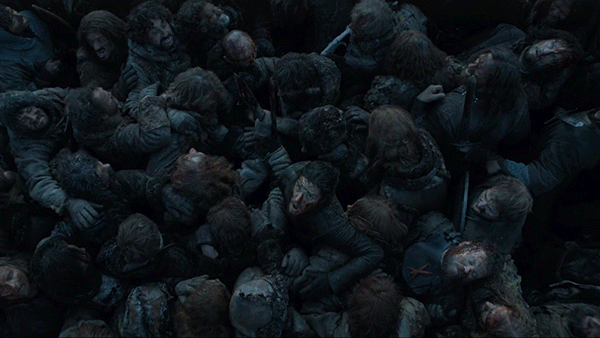 The scenes have been shot similarly and Daenerys's scene has been given a warm colour indicating Fire, while the scene involving Jon has a cold colour tone, which is associated with Ice. The books are a part of A Song of Ice and Fire series and it sure seems that Jon and Daenerys represent the Ice and Fire.
6. The parallel between the army of Vale and Stannis' forces
In the episode, when all hope seemed lost, Petyr Baelish arrived with the army of the Vale, who crushed Ramsay's forces and turned the battle upside down.
This is similar to what had happened in season 4 episode 10, when Stannis' army arrived on time and saved the Night's Watch from the Wildling army.
7. Lyanna Mormont saved Jon Snow's life
When Lyanna Mormont pledged 62 of her soldiers for the battle against the Boltons, many people laughed at it as it seemed to be an insignificant number. However, by the end of the battle, it turned out that it was becaos of one of her 62 soldiers that Jon Snow was alive. When Jon Snow entered Winterfell, Ramsay attacked him thrice by shooting arrows at him. Luckily for Jon, he was able to find a shield close to him, which he picked up and blocked the arrows. It turns out that Jon had picked up a shield belonging to House Mormont.
8. Bolton family line has been extinguished
The Boltons had betrayed the Starks and Roose Bolton was named the Warned of the North and it seemed that the bad guys were winning. However, season 6 changed the situation completely. First Ramsay made sure that he killed his father, so that he could become the Warden on the North and then he killed Lady Walda and his step-brother, so that there would be no one who could make claims. Unfortunately, that meant that he was the last surviving Bolton. When Sansa let his hungry hounds on him, she made sure that with him even the Bolton family-line was dead.
9. Melisandre's visions in the flame were correct
After the death of Stannis, Melisandre was demoralised and she started doubting her visions. She was sure that Stannis was Azor Ahai but after his death, she started doubting what she saw in the flames. Following are some of the things that she had said after looking at the visions in the flames.
"I saw [Jon] in the flames, fighting at Winterfell."

"I have seen myself walk along the battlements of Winterfell. I have seen the flayed man banners lowered to the ground."
Turns out that her visions are still accurate.
7 details you might have missed in the House of the Dragon teaser trailer
HBO gave a huge surprise by releasing the House of the Dragon teaser trailer and Game of Thrones fans couldn't contain their excitement. The trailer is short, but it still gives us enough information to keep us excited till the time the prequel airs. As usual, we watched the teaser trailer multiple times to spot anything that seemed interesting and we have found out a few details that you might've missed in the House of the Dragon teaser trailer. So let's get started.
1. We have a Dragon in the trailer
The trailer starts and we have a blink and miss appearance by what seems like a dead Dragon. Can this be Balerion, the Black Dread? We know that Balerion died before the events of Dance of the Dragons occured and looking at the number of candles lit in front of the skull, it sure looks like the Dragon has to be someone as special as Balerion. If you think otherwise, please let us know in the comments.
2. Blackfyre
We finally got a glimpse of the legendary Valyrian steel sword, Blackfyre and it is held by Paddy Considine, who's playing King Viserys I Targaryen.  Blackfyre is a Valyrian steel sword that was once wielded by Aegon the Conqueror and it is the most famous Valyrian steel sword owned by House Targaryen.
3. Dark Sister
The trailer also gives us a glimpse of another legendary Valyrian steel sword, Dark Sister, though it is really difficult to spot it in the trailer and it is barely visible for a second. Dark Sister is the other ancestral Valyrian steel sword owned by House Targaryen and it was wielded by Aegon Targaryen's sister/wife, Queen Visenya Targaryen. In the prequel, the sword will be wielded by Daemon Targaryen. So thanks to the sword, we know that Daemon Targaryen is fighting in the scene.
4. Catspaw dagger
The most interesting part of the teaser trailer features Alicent Hightower holding the Valyrian Catspaw dagger in her hand and this is the third Valyrian blade that we get to see in the teaser trailer.  The Catspaw dagger has played a major role in the Game of Thrones TV series. The dagger was used by Arya Stark to kill the Night King and it also featured in a number of important scenes in the show.
5. Tourney at Horn Hill
We see a jousting event happening with two big banners of House Tarly in the background. That can mean only one thing, that the tourney is happening at Horn Hill. Also, in the same scene, we can see the sigils of both the participants.
One happens to be a knight of House Tarly and the other belongs to House Cole and we are assuming that it might be Ser Criston Cole, who will be played by Fabien Frankel in the prequel. If you take a look at the knight on the right side, he's holding a shield bearing the sigil of House Cole.
We can see the sigil of House Tarly in the photo below.
6. Stark sigil
This is a minor and maybe insignificant piece of information but seeing House Stark sigil in the trailer felt really good and we can also see the sigil of House Bolton next to the Stark sigil.
7. New Iron Throne
It appears that House of the Dragon is going to do things differently and Iron Throne looks different from the one that we have been used to seeing all these years in the Game of Thrones TV series.
As we mentioned in our earlier article, the Iron Throne looks similar to what George R.R. Martin imagined it to look like. Here's the most accurate depiction of the Iron Throne according to George R.R. Martin. The artwork was done by Marc Simonetti for George R.R. Martin's 2013 Ice & Fire calendar.
What are your thoughts about the details mentioned above? If we missed any details, let us know in the comments section. Do read our article to know everything we know about the cast of House of The Dragon.
You can also join our newly created Telegram group to talk about the show/books and interact with other fans.
Who is Ser Harrold Westerling? Here's who Graham McTavish is playing on House of The Dragon
Not long ago, several pictures of Graham McTavish were leaked on the internet, wearing a full-scale Kingsguard body armour from the set of House of The Dragon. Recently, it has been confirmed by House of The Dragon's official Twitter handle that he's playing Ser Harrold Westerling on the show. Here's a quick look at McTavish's newest persona.
Ser Harrold Westerling is a knight of House Westerling and the Lord Commander of Viserys I Targaryen's Kingsguard. Harrold is one of the longest-serving members of the Kingsguard. He was once a powerful knight with a successful military background, and eventually succeeded Ser Ryam Redwyne as Lord Commander. He is tasked by the king to watch over and guard Rhaenyra Targaryen.
Harrold Westerling was announced as a recurring character in House of the Dragon on December 8, 2020. The character description on HBO's official website reads as follows:
"The Commander and longest-serving member of the Kingsguard who still remembers the lustre of the storied Seven Knights. A once-powerful Knight and a successful military background so a man with presence and status. Given the responsibility to the King to watch over and guard the Princess. In the current regime, where widespread peace has led to complacency and indulgence, he feels something of a loss of purpose, but nevertheless serves the King with a fierce, if quiet, loyalty."
This makes sense as the recent leaks from the House of The Dragon set pictured him in the same vicinity as Olivia Cooke and Milly Alcock, who play Queen Alicent Hightower and a young Princess Rhaenyra Targaryen respectively.
What do you think of the casting? Talk to us in the comments below!
Here's a list of all the Game of Thrones references in Lucifer
Lucifer Season 6 is finally out! The comic book/supernatural based hit series came to an emotional end on September 10 this year with the release of its final season. The show paid a lot of homages to various pop culture icons, including Game of Thrones. Let's have a look at all the times Game of Thrones was referenced by various characters on Lucifer.
Season 3 Episode 14
Cain aka Marcus Pierce (Tom Welling) has been roaming the earth for thousands of years. He's tired of losing his loved ones due to an immortality curse placed on him by God. After a long and bloody skirmish with Amenadiel (D.B. Woodside), he says and believes he has 'nothing to live for'. Amenadiel replies, "Have you tried Game of Thrones?"
Season 4 Episode 8
Lucifer is dealing with his emotional issues, after getting back with his ex Eve (Inbar Lavi). Chloe (Lauren German) tells Lucifer about a prophecy, that apocalyptic events will occur on earth and Hell will freeze over if Lucifer meets his true love. To which he replies, "Perhaps winter is coming."
Season 5 Episode 9
God (Dennis Haysbert) is on earth and organizes a small family reunion at Linda's (Rachael Harris) house. Lucifer considers himself the smartest in the family, much like Tyrion Lannister in Game of Thrones. He drags the chair to sit at the other head of the table in an equal position to his father. Tyrion does something similar at the small council in King's Landing.
Season 5 Episode 16
Michael and Lucifer (both played by Tom Ellis) have agreed to decide who will be the new God of their universe, by a poll that Lucifer is most likely to lose. All the angels show up at Los Angeles Memorial Coliseum, and Michael is wearing a special medieval warrior-like attire for the occasion. Lucifer mocks him for his poor fashion sense, asking him "Is winter coming or something?"
Season 5 Episode 16
Lucifer and Michael are locking horns for a final showdown, because Michael is willing to kill those who won't obey him. In a dramatic and long-drawn-out battle, Lucifer defeats Michael with Chloe's help. He orders him to stand down and 'bend the knee', and then goes on to cut off his wings. "Bend the knee" is frequently used by Daenerys Targaryen in Game of Thrones, whenever she subdues an enemy.
Have you noticed any other Game of Thrones references we might have missed out on? Tell us in the comments below!