5 Things we would love to see on Game of Thrones
Game of Thrones has been delivering mind-blowingly amazing episodes this season, and every episode leaves us with "WHAT DID I JUST SEE!?"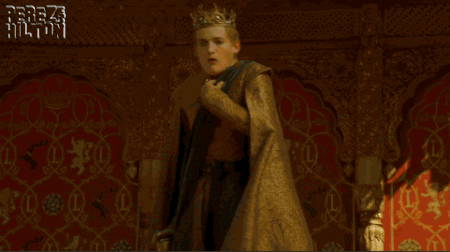 Last season we were left with wondering how Dany would deal with the Dothraki, and it turned out to be worth the wait! There was also Jorah finally 'fessing up and HODOR! And seems like Bran is much much more important than we thought he was! Yet, there is so much more we want to know! What's in the Tower of Joy? Who will sit on the Iron Throne? Does Wylla even exist?! What is Littlefinger's endgame? But these are things we are bound to find out and see eventually, but we all have fandom fantasies! Coming up is a list of things that I think would be awesome to watch unfold on the show!
1. Jon or even Sansa, drive a sword through Ramsay
Honestly, every time I see Ramsay's psychotic smile on the screen, I feel like tearing the screen apart, while mentally screaming in my head, "DIE, YOU BASTARD!"
This smile here, is what I wish he would wear just before Jon stabs him with Longclaw. Like, just a second before.
In fact, I would not mind Sansa being the one to stab him either. That would actually be more beautiful. In the Episode 5, when she says that she could still feel what he had done to her, in her body, I had this crazed image of Sansa standing over Ramsay, a sword poised over his throat while breathing heavily.
2. The return of Nymeria
Yes, well the Direwolves are dying, and I am not happy.NOT HAPPY. WHY were the wolves even introduced if they were all supposed to die anyway? In the books, the wolves were like warging medium, but as each direwolf dies in the show, it is so much more despairing.
Two direwolves are left, Ghost and Nymeria. Last we saw Nymeria was Arya shooing her away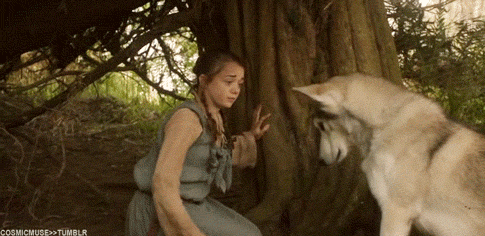 Ghost is with Jon and Nymeria is… well… NO ONE KNOWS. In the books, Nymeria is leading a pack of wolves, and this we know because Arya wargs into Nymeria, which brings us to the next point.
( I would really love to see Arya and Nymeria reuniting )
3. The other Starks realising their Warging abilities
George R. R. Martin has confirmed that all the Starks are wargs, but as we all (sadly) know, Robb did not have the opportunity to realize this potential of his. Sansa and Rickon may have lost their direwolves (Rickon still does though, if the theory that the head presented to Ramsay was too small and that the Umbers were just playing Ramsay), but maybe they can still warg somehow? As for Jon, I think it would be amazing if he wargs into Ghost and into the dragons somewhere later in the future, when Jon and Daenerys meet.
4. Return of Benjen Stark
This man has just been M.I.A since first season! Where did he disappear off to? I refuse to believe that he is dead because well, I don't want another tombstone with Stark on it. But other than that, the show would not have kept Benjen's whereabouts and conditions ambiguous unless they were going to use him again at some point, right? RIGHT? I sure hope so.
It is speculated that he would be back for the Episode 6. I just want to see all Starks come together and destroy the Boltons and Lannisters which brings me to the ultimate pointer on this list of course…
5. Lady Stoneheart
WHITHER HATH THOU BEEN MILADY?
The books have a resurrected Catelyn Stark, renamed, Lady Stoneheart, who "…don't speak, but she remembers…", (as does the North btw) and intends to wreak havoc on the Lannisters, Boltons and the Freys. I came across pictures from the Red Wedding and episodes before that of Robb and Catelyn, and realized how much I missed them and how the Starks were wronged A LOT. Vengeance must, therefore, be served.
I really wish the show has not omitted her character but it sure does look like it. Even rumours about Michelle Fairley being on the set have not surfaced! Below is a fan-art image of Lady Stoneheart with Robb's crown *sniffle*
Have a look at Game of Cones – A shop dedicated to Game of Thrones and Ice cream lovers!
When you watch Game of Thrones, you always swear allegiance to a particular House or two, be it Lannister, Targaryen, Baratheon, Stark, or Greyjoy. But when it comes to ice creams, it becomes a really tough choice. And one particular shop in Cornwall is not making it easy for Game of Thrones fans at all. A Game of Thrones ice cream shop, Game of Cones, located in Fowey, Cornwall, UK, is making your dreams come true, in the form of your favourite sweet and icy dessert.
The dessert shop in Cornwall sells your favourite ice creams and milkshakes with a Game of Thrones twist. Over 33 flavours are available on their menu for you to choose from, each sharing name with a character on HBO's epic fantasy. There's also a House of Dragons cabinet for people to sit and enjoy their delicacy. It sounds awfully similar to the name of HBO's upcoming Game of Thrones prequel!
We know that Game of Thrones prequel House of The Dragon is being filmed at various locations in Cornwall, as many pictures have been leaked online with the cast in costume. Game of Cones will surely make a huge profit if the prequel lifts off.
What do you think of the Game of Cones ice cream shop? Tell us in the comments below!
More amazing pictures revealed from the 2022 A Song of Ice and Fire calendar
Every year diehard Game of Thrones fans wait for the release of the yearly A Song of Ice and Fire Calendar that features some of the best artworks in the world. They depict the fantastical world of George R. R. Martin's famous novel series. A few of the beautiful portraits were released early this year, two of them very recently. Penguin Random House released a calendar filled with images from George R.R. Martin's A Song of Ice and Fire series. The publication site has shared more images on its website, according to Los Siete Reinos.
The calendar for 2022 has illustrations from Spanish artist Arantza Sestayo. Earlier George R. R. Martin tweeted a pic from the calendar, announcing its release a few weeks ago. Two new pictures from the calendar were leaked recently. First up, there's a lovely image of Sansa and Lady in the Winterfell godswood, before the direwolf is killed very early on in the story. Next, we have an image of Craster and his many wives and daughters who live with him beyond the Wall.
You can buy the 2022 A Song of Ice and Fire calendar here. Are you excited about the new yearly calendar? Talk to us in the comments below!
Top 10 most shocking deaths on Game of Thrones, according to fans
Game of Thrones was famous for showcasing some of the most shocking and gruesome deaths in television history. George R. R. Martin's infamous style of killing off fan favourite characters is a defining characteristic of the show. Over the course of its decade-long run, there were many jaw-dropping death scenes that shook the audience to their core. In April this year, HBO celebrated the Iron Anniversary on account of its 10-year completion. They asked the fans to vote for the most shocking deaths on the show.
More than 33,000 fans voted on the occasion, and the final results are here as follows:
10. Walder Frey (Season 6, Episode 10)
Walder Frey's involvement in the Red Wedding made him one of the most hated characters on Game of Thrones. Fans were amazed when Arya Stark used her face-swapping skills to deliver poetic justice to the one who betrayed her family.
9. Ramsay Bolton (Season 6, Episode 9)
One of the most satisfying killing scenes in the entire series, Ramsay Bolton's death almost made the audience cheer for the Starks. Jon Snow defeats Bolton and his army with the help of wildlings and Knights of Vale, and Sansa rightly delivers him to the hounds who once fed on his victims.
8. Viserion (Season 7, Episode 6)
Daenerys' rescue attempt results in the death of one of her 'children'. Viserion is killed by a well-aimed javelin thrown by the Night King, resulting in an instant death.
7. Littlefinger (Season 7, Episode 7)
In a shocking turn of events, Petyr Baelish "Littlefinger" loses at his own game of cunning, when Arya Stark tricks him into believing he can create a rift between the Stark sisters.
6. Joffrey Baratheon (Season 4, Episode 2)
Another one of the most satisfying deaths on the show, Joffrey Baratheon, one of the most hated characters on the show, choked on his own blood and died horribly after being poisoned by Olenna Tyrell.
5. Jon Snow (Season 5, Episode 10)
Fans cried when the show's poster boy was stabbed to death by his brothers of the Night's Watch. Luckily Jon was resurrected by Melisandre in the next episode.
4. Ned Stark (Season 1, Episode 9)
The first death on the show that moved the viewers by large, many fans were hoping that the honourable Warden of the North would somehow escape his execution.
3. Hodor (Season 6, Episode 5)
One of the most loving characters in television history, Hodor's secret and his demise made even the toughest of fans cry out rivers. He dies heroically trying to save Bran Stark from the undead.
2. Oberyn Martell (Season 4, Episode 8)
Oberyn Martell became a fan favourite in a really short time, but Pedro Pascal's charm wasn't enough to keep him alive. He was crushed to death by the huge monstrosity known as the Mountain.
1. The Red Wedding (Season 3, Episode 9)
There's no denying the Red Wedding is the most terrifying death scene ever filmed in all of television history. The brutal execution of the Starks and their supporters by the Freys and Boltons left fans worldwide in utter shock.
Do you think the ranking is justified? Tell us about your list in the comments below!